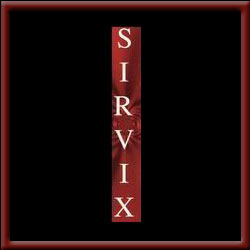 Sirvix was a San Jose, California based Ambient / Industrial / Noise band signed to Feedback Records - an experimental Sub Label of Decibel Records. Their sound was for the most part dark and brooding. The founding members were Edward Baichtal, and Mario Lima. Other members at various points of time included, Aaron Hatfield, Chris (Duckie), and Dean John Grenier. Occasionally other guest artists were included in the song creation process.
Autumn Cascade is the band's unreleased album. It is less noisy and and bit more narrative than Her Dead Love. It features vocals and spoken word elements, in addition to heavily layered ambient sounds. Included here is Mario's solo piece Starr.
Mario is also a co-founder and core member of Terra Serpentis.
Mario Lima Facebook
Mario Lima Myspace
All of these files are CD quality MP3. The individual tracks are between 3 and 7 MB each. The full archive is about 58 MB.
Tracks:
Part 1
Part 2
Part 3
Part 4
Part 5
Starr - Mario Lima
Complete Archive
All material © Mario Lima/Sirvix 2010