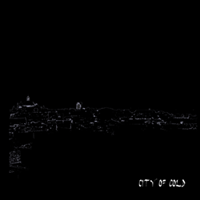 City of Gold was John Harford's first full length album: an indulgence in dark ambient and sound art in the tradition of Lustmord, Skincage, SPK, Cold Meat Industries, Nurse WIth Wound. Heavily based upon experiences in and around Baltimore City, EVP (then not a household word) experiments, and nearly entirely sampled and regurgitated environmental and found sound recording. It is raw, ineptly composed, grimy and perhaps the most honest album to date. It floated around under the name "Eccentre" for a while. The title references may become obvious with a little "connect the symbols". A wordless and pictureless narrative underworld journey. Best listened to in near complete darkness under headphones.
Also included on this page are some other early experiments from the 1999-2003 period:
Unsound: Implosion Project - recorded and performed live with Mike Johnson (Feverspore): it is all based upon a 2 minute and 40 second sample of a building implosion in downtown Baltimore.
Dream Projectors - a noisy composition in the tradition of Coil's Queens, Constant Shallowness, etc... Most of what you hear is recordings of 'earth hums' and frequencies reportedly used in mind control experiments.
Kathartes and John Harford's Links

Kathartes Myspace - Periodically Checked
Terra Serpentis - John's Medieval Music
John Harford - Photo and Visual Arts
Myrkwood - Writing by John
All of these files are CD quality MP3. The individual tracks are between 3 and 7 MB each. The full archive is about 50 MB.
Tracks:
City of Gold
1. Phantoms
2. Road Side Burial
3. Beyond
4. The Shade Replied
5. Gray Landmarks
6. The Gate to Potniae
7. Necropolis
8. Beneath
9. Embruon
Complete Archive
City of Gold Tracks 1-9 Including Album Art

Implosion Project - 15.8 MB
Dream Projectors - 9.96 MB
All material © John R. Harford/Kathartes 2010