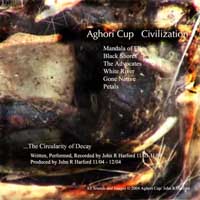 Civilization is an exploration into the Aghoric consciousness. Decay beautified and filth devoured. Tinged with visits from Shiva and Kali: steeped in Vedic precepts and untouchable esthetics. It is about the erosion of the psycho-cultural landscape. And what comes after that erosion is complete. All the lyrics are narrated by John over drifting waves of ambience and texture. The most obvious sonic reference is Coil, and meditative chant.
Also included here are two variant remnants from the recording sessions: Ghul and Nightcrawlers.
Kathartes and John Harford's Links

Kathartes Myspace - Periodically Checked
Terra Serpentis - John's Medieval Music
John Harford - Photo and Visual Arts
Myrkwood - Writing by John
All of these files are CD quality MP3. The individual tracks are between 3 and 7 MB each. The full archive is about 50 MB.
Tracks:
1. Mandala of Flies
2. Black Shores
3. The Advocates
4. White River
5. Gone Native
6. Petals
7. Ghul
8. Nightcrawlers
Complete Archive
Civilization Tracks 1-8 Plus Album Art
All material © John R. Harford/Kathartes 2010